This is a spooky time of year, and this theme is perfect for the season: magicals and the familiars who enhance them. Our guest author this issue is the wonderful Valerie Brook. I hope you enjoy every story in the volume — check them all out!
"Hedging the Witch"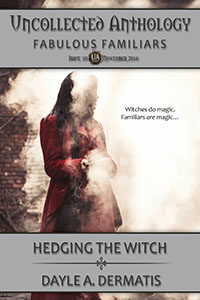 An honest politician: far more rare than hedgewitches, at least in Portland, Oregon.
When one such politician asks hedgewitches Holly and Willow to investigate whether his rival employs a magical advantage, Holly's familiar, Cam, must support Holly through a treacherous investigation…or risk losing her forever.
The first story in a spellbinding new urban fantasy series by the author of the Nikki Ashburne Ghosted stories.
Buy it at any of these fine online retailers:
Amazon | Barnes & Noble | Kobo | Omnilit | Smashwords | iBooks